View List of Associated Documents
Exam certificates
Exam certificates for our 2021 leavers are now ready for collection from main reception.
Students must provide identification when picking up their certificates. If a third party is collecting on behalf of a former student, they must bring with them a signed letter from the student concerned, otherwise we cannot release the certificates.
Exam dates Summer 2022
GCSE and post-16 exams will begin on 16 May and finish on 28 June. There is a contingency day of 29 June.
Results days
A Level/Level 3 Vocational – Thursday 18 August 2022
GCSE/Level 1 and 2 Vocational – Thursday 25 August 2022
GCSE/A Level/Vocational appeals
As usual, students will be able to appeal their grades.
These will take place in their usual form of a 'review of marking'. This means that an examiner will check the original marking of the paper to see if it is within their range of 'tolerance'.
Grades can go up or down as a result of an appeal.
GCSE/A Level resits 2022
Students who are unhappy with their grade, and either have been unsuccessful in their appeal or chose not to appeal, will have the opportunity to sit an examination in the next summer series in 2023.
English language and mathematics will be available to resit in the November 2022 exam series.
Adjustment for the exams
Students in exam years have had two years of disrupted schooling due to the pandemic. As a result, the Department for Education has decided to make adjustments to the 2022 exams.
This includes reducing content, spacing out core subject papers and advance information on exam topics.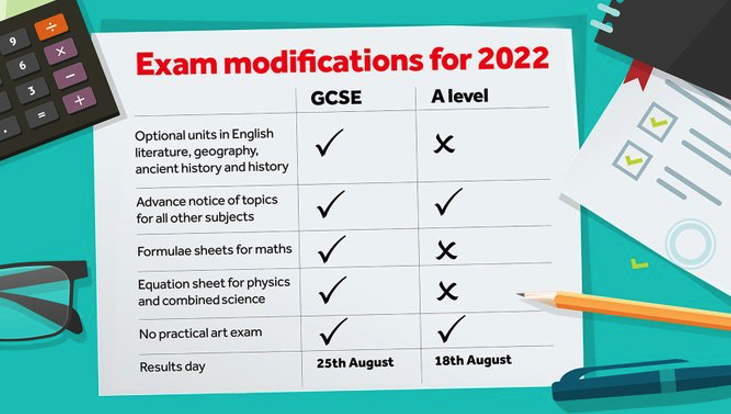 No new top grade in 2023
Ofqual said there would be no new top grade at A Level in 2023, with the aim instead to return grading distributions to pre-pandemic levels at this point.
As revealed by Tes, Ofqual previously put out a contract to tender suggesting that a new top grade at A Level could be introduced after 2022 to tackle concerns about grade inflation, although the tender added that this was "likely to cause anxiety and uncertainty".
Ofqual said there will be no grading scale changes in 2023.
Documents